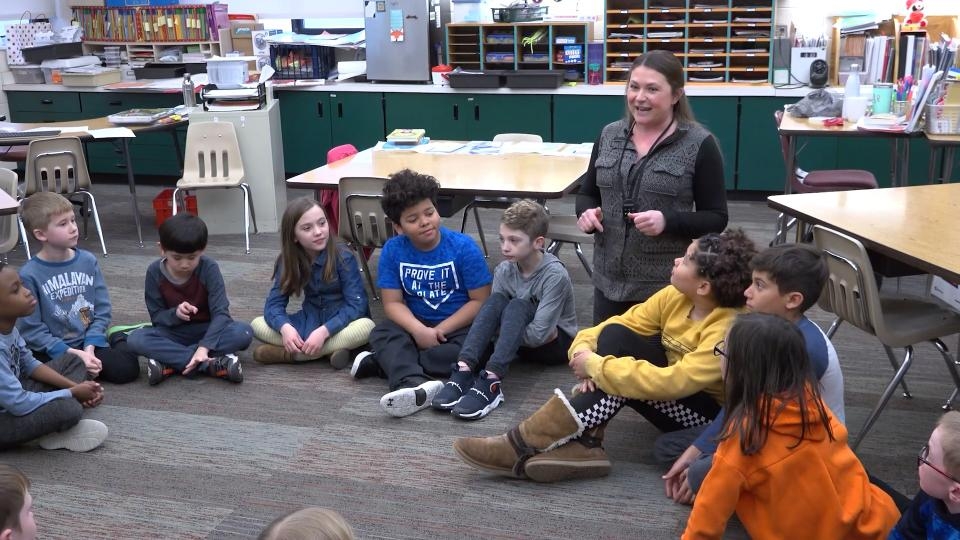 Elsie Rogers teacher receives U.S. Presidential award for Math Teaching
Posted on February 10, 2022



Mrs. Amanda Fox, now teaching 4th grade at Elsie Rogers, was notified this week that she had been selected to receive a Presidential Award for Excellence in Mathematics and Science Teaching (PAEMST). Click here to read the White House news release. This is the highest honor bestowed by the United States to K-12 science, technology, engineering, mathematics, and/or computer science teachers. President Joe Biden named 117 teachers and Mrs. Fox was among the national winners!

Mrs. Fox was chosen in December 2020 as the State's only PAEMST finalist in math. At the time Mrs. Fox was a 3rd grade teacher at Prairie Vista and had expanded the after-school coding courses at Prairie Vista. She also worked over the summers with the ND Department of Computer Science & Engineering on various research efforts funded by the National Science Foundation (NSF). The NSF grants funded a K-6 ND computer science summer program, as well as her Prairie Vista after-school coding classes. Mrs. Fox was among the first cohort of teachers to help K-8 teachers develop age-appropriate curriculum to introduce students to computer science within existing STEM curricula. Notre Dame Professor Michael T. Niemier praised Ms. Fox for mentoring other area teachers. Mrs. Fox also helped create content for K-8 students in various local school districts other than just P-H-M. Click here to learn more about Mrs. Fox's background. She's also established a northern Indiana chapter of the Computer Science Teachers Association (CSTA). P-H-M School Trustee and Board Secretary Clare Roach got to know Mrs. Fox when she was a Prairie Vista parent and was also instrumental in Mrs. Fox's nomination for this prestigious award.

This is the second time a PHM teacher has been honored as a PAEMST finalist. Penn High School's John Gensic was a Indiana finalist and was a national award recipient in 2017. Click to read that story.

Recipients of the PAEMST receive the following:
A certificate signed by the President of the United States.
A paid trip to Washington, D.C., to attend a series of recognition events and professional development opportunities.
A $10,000 award from the National Science Foundation.
If COVID-19 travel restrictions are a concern, a Virtual Announcement may be held with a live award ceremony to take place at a later date.
Last Modified February 10, 2022