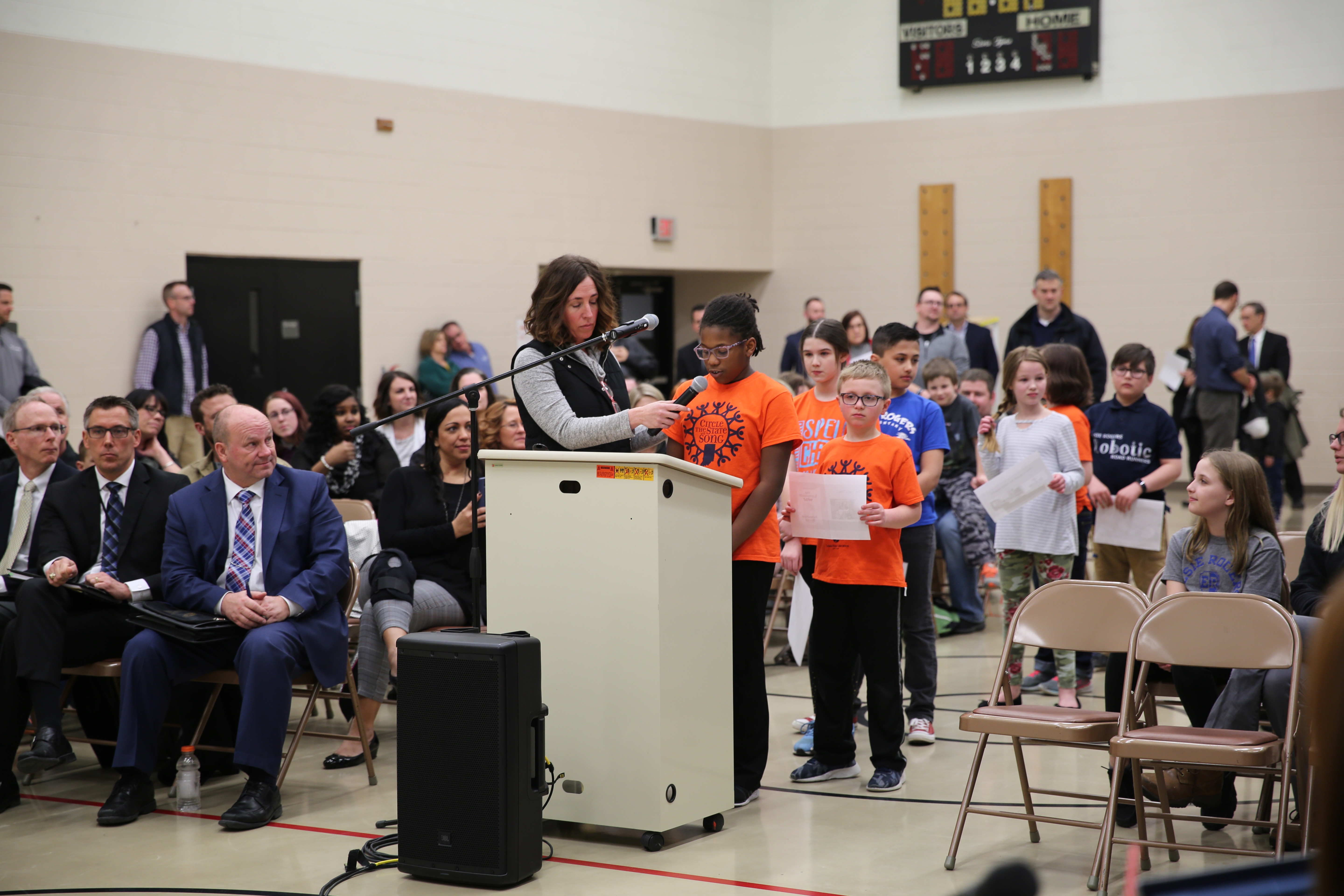 Four times each school year, the Penn-Harris-Madison Board of School Trustees visit a school within the district to "spotlight" a particular program or accomplishment. The Board's third visit for the 2018-2019 school year was Monday night, March 25 here at Elsie Rogers Elementary School.
Principal Christy Campbell and some of the students shared information with the Board about the school's "Lemonade War" with sister school Elm Road Elementary—a type of "One Book, One School" except with two schools! September and October, students in K-5 at both schools read Jacqueline Davies' book "The Lemonade War." Reading took place on multiple levels: school community reading, family reading at night and in partnership with the buddy school.
The schools took it a step further by having a friendly competition to raise money to buy teddy bears and other comfort items for children who are admitted to Beacon Health Children's Hospital Pediatric Oncology Hematology Department for treatment.  
Elsie Rogers won the "Lemonade War" by raising $1,246! Elm Road students raised $1,023. Together both schools raised a total of $2,269! That money was donated to Becky Wachs at the School Board Meeting. 
Other highlights of the evening included Music Teacher Mrs. Erin Elliott leading Elsie's "Circle the State" singers in song and a special glow and the dark performance by the Orff Ensemble.
To download high resolution jpg files from the photo gallery below, just simply click the "DOWNLOAD" button on the bottom right-hand corner of the photo while viewing it in the Photo Gallery function. We are happy to provide this service to you free of charge.