Elsie Rogers students found their "Golden Ticket" while doing a stage rendition of Willy Wonka and the Chocolate Factory the week of November 17th, 2023!
The drama club was formed in 2021 thanks to a grant from P-H-M Education Foundation.
Mrs. Flanagan Receives P-H-M Impact Award
Superintendent Dr. Jerry Thacker awarded three more P-H-M teachers with the Impact Award today (Monday, October 2). Dr. Thacker visited Walt Disney Elementary, Elsie Rogers Elementary and Grissom Middle School. Awards handed out this time around were to the following teachers:
Matt Serge, 3rd grade teacher at Walt Disney
Kara Flanagan, 1st grade teacher at Elsie Rogers
Josh

Kelver

, 8th grade ELA teacher at Grissom Middle School
The P-H-M Impact Award is presented to educators who have helped their students achieve individual academic growth on their formative assessments over time. All P-H-M teachers across the district are dedicated to helping their students achieve personal academic success. The P-H-M Impact Award is shining the spotlight on those teachers who are showing the most significant overall student growth during the 2022-2023 school year. They are prime examples of how our teachers and students achieve P-H-M Excellence!
Dr. Thacker popped in and surprised the teachers with the help of the school principals, Disney's Dr. Higginson, Elsie's Christy Campbell, and Grissom's Jenn Sinclair. Dr. Thacker was also joined by P-H-M administrators Assistant Superintendent Dr. Heather Short and Director of Professional Development Dr. Lavon Dean-Null.
At Elsie, the team caught Kara Flanagan completely off-guard. Her students really got into the surprise. Mrs. Flanagan had the highest growth of all P-H-M Title I first grade teachers! 90% of her students had average or higher growth for their overall Dibels composite growth; and 58% of her students were in the "above average" or "well above average" categories! Check out all the photos of today's award presentations on Facebook.
Matt Serge was recognized for having the highest growth in ELA of all Title I 3rd grade teachers in P-H-M! Mr. Serge's class went from 9% (Clear Sight) to 55% proficiency on ILEARN; that's 21% higher than average Title I proficiency growth!
Josh Kelver had the highest growth class section in 8th grade ELA across P-H-M (15% higher than the second highest class)! Mr. Kelver's class went from 8% proficiency at the beginning of year, to 75% proficiency on ILEARN. That's the highest average growth across all 8th grade P-H-M ELA teachers! Because Mr. Kelver's wife, Ashley Kelver, also works at Grissom, she was able to be included in the the surprise.
We thank the P-H-M Education Foundation for covering the cost of the awards.
There are more P-H-M teachers to recognize in the days, weeks and months ahead!
What Fans Need to Know Before Heading to Penn Homecoming Parade & Game
Friday, September 29 is Penn's Homecoming Parade, Fun Zone, Food Trucks & the Penn football game versus St. Joe. The P-H-M Education Foundation is once again sponsoring all the fun and new this year–FIREWORKS after the football game!
The entire P-H-M community is invited to come out for this fun-filled family event. All the fun starts with the Homecoming Parade. Be sure to grab your spot on the route by 5:00 p.m. Parade starts at 5:30!
Here are some things that will be helpful for families as they head out for all the festivities.
Parking:
Paid Parking ($3 cash) at these lots:

Penn High School (Front Lot & Jefferson Rd. Lot)

Softball/Tennis Lot

Bittersweet School Lot

Free Parking at these lots:

Soccer Lot (Bank Lot)

Pennway Lot

Schmucker Lot (front, Sides & in Back of School)

Fun Zone:
5-7:00 p.m.
Penn Baseball Field
Teacher Dunk Tanks, Jumpies for elementary students
Food Trucks:

Ben's Pretzels
Junbuggies
Keim's Elephant Ears
Kona Ice
Prized Pig
REAL Grille
Rulli's Pizza

Fans will be allowed to take food purchased at the Food Trucks into the stadium. However, no other outside food will be allowed!
Gate & Ticket Info:
Penn vs. St, Joe, Kickoff is 7:30 p.m.
P-H-M students K – 5th grade get in FREE with paying adult!
Tickets are on sale now-Thurs., Sept. 28 online, ticket price is $6 (students & all other age groups same price)
Tickets on Friday, Sept. 29 are $7 (online or at the gate)
PHM Employees plus one guest get in FREE,

but you must have ID badge & the guest must be with the employee

Please remember middle schoolers cannot be dropped off unsupervised. Once in the game, the students are free to walk around. At least one responsible adult must be onsite.
Tickets are sold at the North & South gates only!
Penn All Sports Passes and tickets (hard & online) are accepted at all gates
The Center Gate is reserved for Penn All Sports Passes and online ticket holders only
No Reentry!
Fan Safety:
Please utilize crosswalks when crossing Bittersweet Road after the parade
Rules to Remember:
No reentry to Everwise Field; once you leave, you are not allowed back in.

No outside food or beverages, no insulated cups

No backpacks

Diaper bags & large women's purses are allowed

Penn does

not

have a clear bag policy

No electronic noise makers

No Footballs or Beach Balls

No weapons of any kind

No alcohol

No Smoking/Vaping products of any kind. All PHM school property is smoke free.

No open flames at private tailgating
Info on the Penn Student Homecoming Dance on Saturday, September 30 can found on PHMEF's website. CLICK HERE.
2023 Community Connections Fair to be held Oct. 7
The Penn-Harris-Madison School Corporation's ENL Services' is sponsoring the District's FREE Community Connections Fair!
Come check out what the Mishawaka, South Bend, and Elkhart communities have to offer to your families!
P-H-M is inviting area businesses who want to participate in the Community Connections Fair to sign up. Click here to request a table at the event.
The Fair will also include cultural performances from P-H-M students and families. Families wishing to sign up to perform, click here.
Bilingual interpreters will be on hand at the event to assist those families who need it.
Come out and enjoy the many cultural performances and student work that will be on display representing countries from all over the world!
Please join us! Click here to download and share the flyer.
For more information, please contact:
Rylee Jacobson
P-H-M Elementary ENL Coordinator
(574) 271-8598, Ext. 50913
rjacobson@phm.k12.in.us
"Back to School" Boys Basketball League
Boys in grades 2nd to 8th are invited to participate in "Back to School" Basketball League at Penn High School.
2nd – 6th grade League
DATES: September 24th; Oct. 1st, 8th, 15th, 22nd 29th
LOCATION:
2nd-4th, Penn Fitness Center
5th-6th, Main Arena/West Balcony/Aux Gym Time
TIMES:
2nd-4th, Sundays, Noon – 4:00 p.m.
5th-6th, Sundays, 4:00 – 6:00 p.m.
COST: $99
Click here to register online.
7th & 8th grade League
DATES: September 10th, 17th, 24th; Oct. 1st, 8th
LOCATION: Penn High School
TIMES: Sundays, 4:00 – 6:00 p.m.
COST: $79
Click here to register online.
Questions? Please contact the League Director Coach Smith if you have any questions at jsmith5@phm.k12.in.us
2023 Community Tailgate
This year's annual Community Tailgate will be a great way to kick off the return of the Backyard Brawl between the Kingsmen and the Mishawaka Cavemen.
All fans are welcome, Cavemen and Kingsmen! There's plenty of food for fans on both sides.
Gates open at 5:00 p.m. You must have a ticket to the football game to enter. Once inside the stadium head down to the white tents in the South End Zone, near the Zolman's Tire & Auto Care South Concession Stand.
For $6 you get your choice of hot dog, hamburger or brat served with a bag of chips, choice of drink, and a cookie. Food tickets for the Tailgate are purchased at the Tailgate.
Fall 2023 Penn Youth Girls Basketball League, 3rd-8th grade
Penn Girls Basketball Head Coach Kristi Ulrich is once again offering a fall youth basketball league
The "Junior" League is open to girls in 3rd – 6th grades. The "Senior" League is for student-athletes in 7th & 8th grades. All those participating in the "Senior" league MUST live in the P-H-M District or attend a P-H-M School.
Sign-ups are on Sunday, September 10 from 12 – 2 p.m. in the Penn High School Main Arena. Enter Door D.
The League runs September 17th – November 12th with a single elimination tournament for all age groups.
All games will be played on Sundays at Penn High School in the Main Arena, Auxiliary and West Balcony courts. Tournament times may vary on Nov. 12th.
Weekly Game Times are:
3rd & 4th grades: 10:00 a.m. – 12:00 p.m.
5th & 6th grades: 12:00 – 2:00 p.m.
7th & 8th grades: 2:00 – 4:00 p.m.
Click here to download the PDF with more information and to register.
PennPALS Open Houses, Wed., August 16
PennPALS will be holding Open Houses on Wednesday, August 16. Please attend the session that corresponds to your child's time of attendance.
A.M. Classes: 11:00 a.m. – 12:00 p.m.
P.M. Classes: 1:00 – 1:30 p.m.
2023-2024 District Activities Calendar
The 2023-2024 District Activities Calendar was mailed to the homes of P-H-M families the last week of July.
The calendar provides key dates for testing, recess breaks, and school specific events (for the schools that provided the information).
You can click here to view a PDF copy of the calendar. You can also view a one-page of the 2023-2024 school calendar that shows the school year at a glance.
The P-H-M District online (Google) calendar is the most up-to-date. You can add this district and any school calendar to your own personal Google calendar.
Each of our 15 schools also maintains an online calendar that is updated frequently with the school's scheduled activities and event details. You'll need to visit your school's website to add that calendar to your personal Google calendar.
Running is Elementary School results
After the postponent of the original race date on Monday, May 1 due to rain, students were able to show their stuff on Wednesday, May 3.
The one mile run, sponsored by P-H-M's Education Foundation, is held at Penn's Cross-country course, which is located behind Elm Road Elementary School. Post race snack donations were donated by Costco.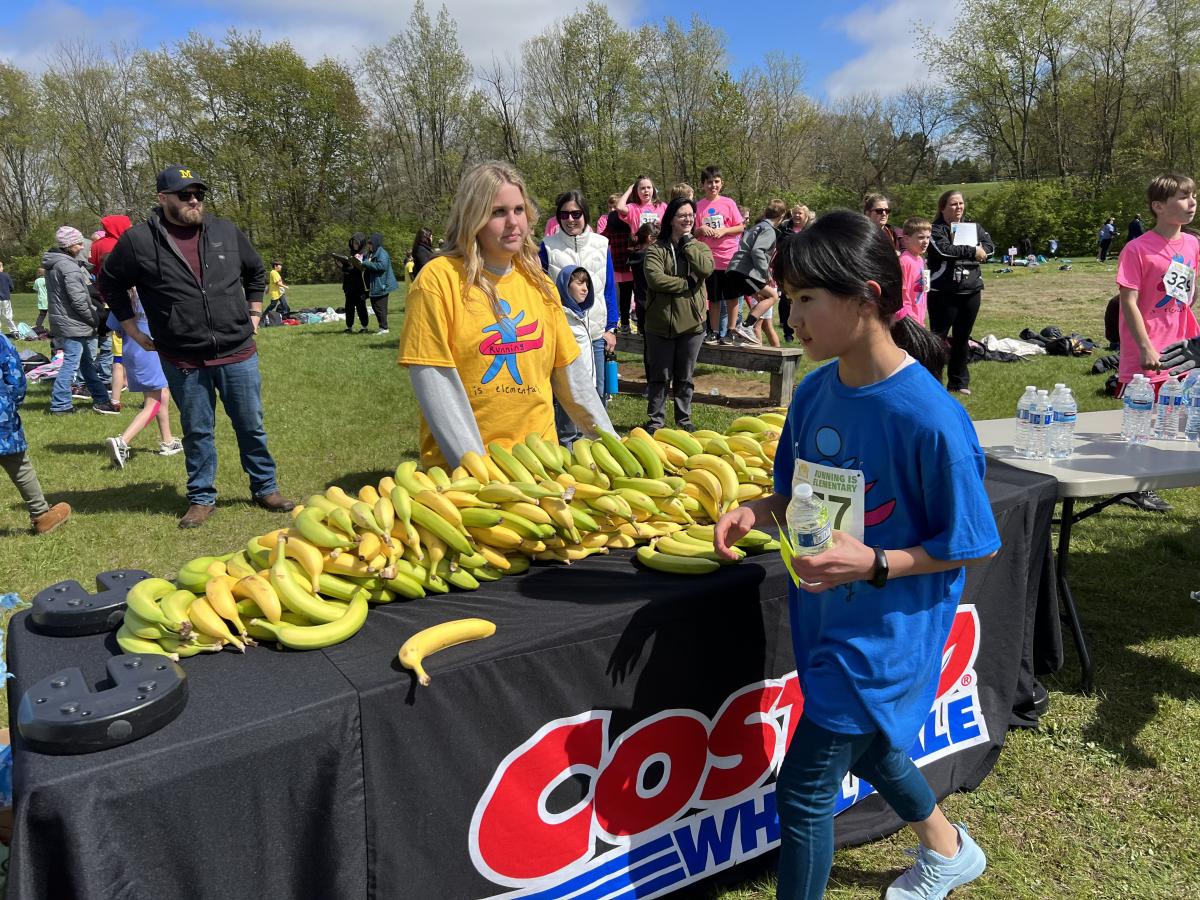 This annual event encourages fitness, healthy choices and wellness. Fourth and fifth graders, from all 11 P-H-M elementary schools are encouraged to sign up for the free running club. Designated coaches at each school are then tasked with training the runners for the 6-week club which then culminates with the Running is Elementary one mile race. Approximately 640 students participated this year! The students are cheered on by their fellow students, their families, principals, teachers and running coaches; it's amazing to see the dedication and hard work the students put in to complete the race. Visit P-H-M's Facebook page to see a full photo gallery.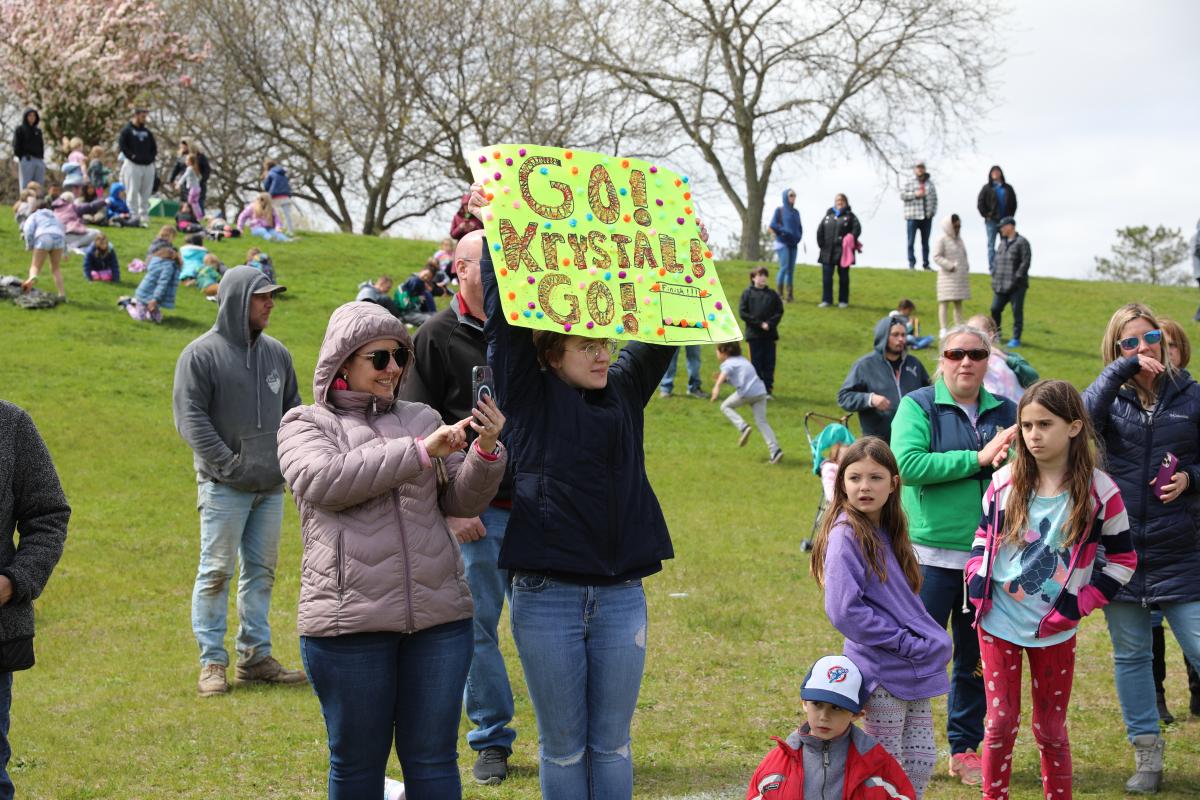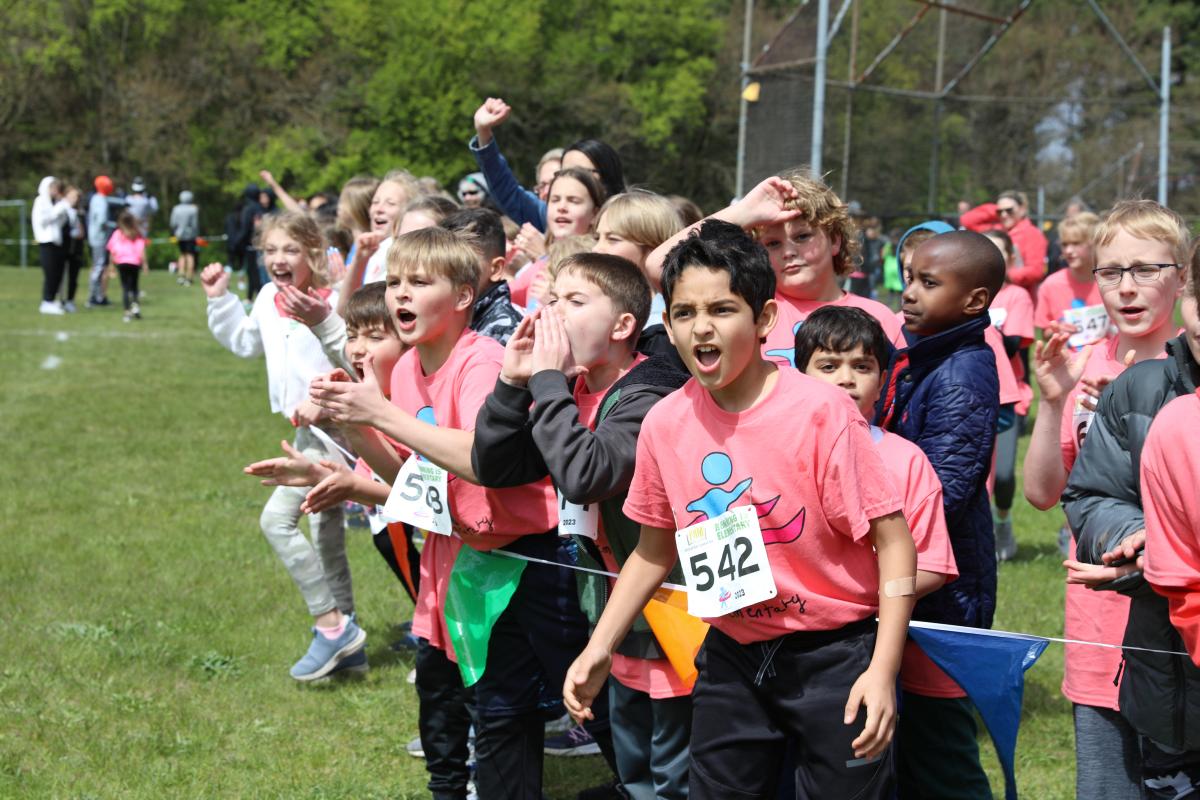 Cindy Batalis (P-H-M's 2009 Teacher of the Year and physical education teacher at Mary Frank Elementary School) began the yearly tradition of Running Is Elementary back in 2008. Batalis' own love for running and her desire to pass that love on to students is evident in the passion she puts into the Running is Elementary event each year.
CONGRATULATIONS to all the students who participated! It is a tremendous accomplishment to complete a one-mile cross country course race. Below are the race results show 1st, 2nd, and third place winners.
Race Results:
5th Grade Girls Winners
6:56, Bib #2, Bittersweet
6:57, Bib #513, Northpoint
7:04, Bib #213, Horizon
School Team Rankings:
Northpoint
Bittersweet
Elm Road
5th Grade Boys Winners
6:01, Bib #510, Northpoint
6:25, Bib #536, Prairie Vista
6:26, Bib #541, Prairie Vista
School Team Rankings:
Prairie Vista
Horizon
Northpoint
4th Grade Girls Winners
7:20, Bib #42, Bittersweet
7:31, Bib #381, Meadow's Edge
7:46, Bib #569, Horizon
School Team Rankings:
Prairie Vista
Horizon
Northpoint
4th Grade Boys Winners:
6:34, Bib #553, Prairie Vista
6:44, Bib #206, Horizon
6:51, Bib #196, Horizon
School Team Rankings:
Horizon
Prairie Vista
Northpoint
Here's a breakdown of the schools' shirt color: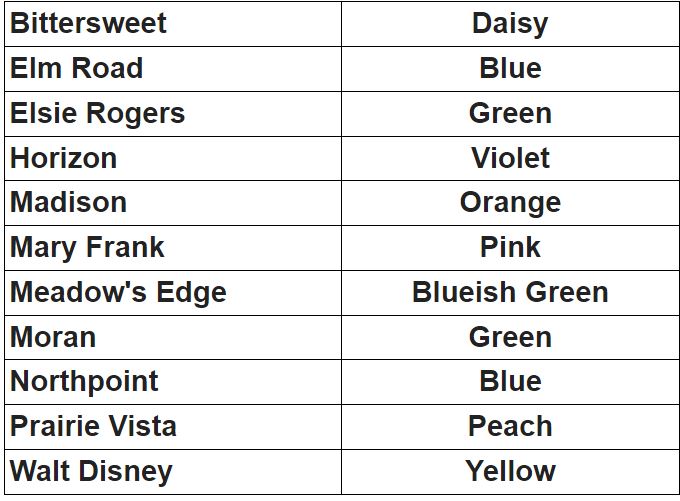 document.addEventListener( 'wpcf7submit', function( event ) { var reference = Date.now().toString(36) + Math.floor(Math.pow(10, 12) + Math.random() * 9*Math.pow(10, 12)).toString(36); jQuery('input[name="wpcf7cfpdf_hidden_reference"]').val(reference); }, false );